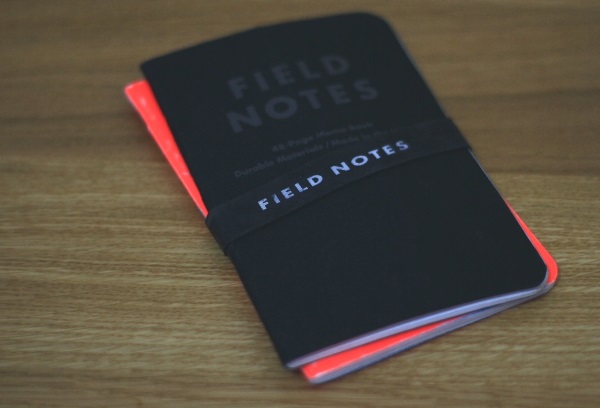 A few months ago I tried Field Notes for the first time. I was travelling to America and didn't want to carry both of my large Moleskine notebooks around.
I was immediately hooked.
In the past I'd tried a number of ways to keep track of notes that seemed too basic to go into my larger notebook, but too complex for my planner; the vague middle ground of half thought ideas and random bits of information. The last thing I tried was 6″ × 4″ index cards. These were a great size, but then I had a stack of index cards to worry about. (I liked index cards so much, I may still find a way to use them moving forward, but that's another story.)
I decided to try out Field Notes for this exact purpose – anything goes. From Wi-Fi passwords to plans of world domination, in any type of pencil or ink. The Field Notes is where I empty my brain.
Now that I've started using them this way, I plan to continue to use Field Notes for this purpose for the foreseeable future, and they'll feature prominently in my plans for my refreshed analogue setup alongside Japanese notebooks like Hobonichi and Midori. There will be more to come about that over the next few months.
Aside from their actual purpose of note taking, there are a few other things that make Field Notes special for me…
Physically wonderful
First of all I find the dimensions and the number of pages to be just right for what I'm using them for. They're 3½″ × 5½″ and 48 pages with a card exterior. They are a perfect fit for a jeans pocket or for stuffing inside a another notebook or case. They work well as companion notebooks more than anything else.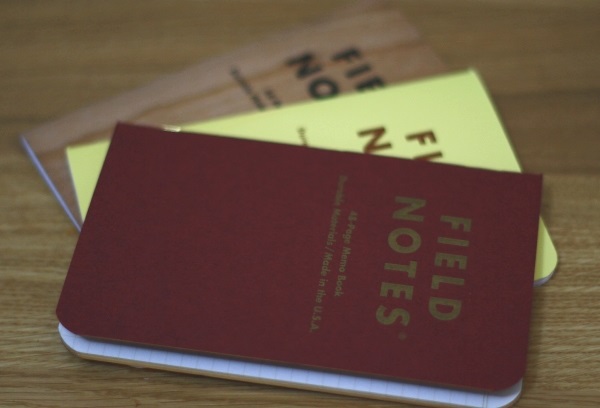 The physical design is based on the old memo books and pocket ledgers popular in America's days gone by. Revived to fill the need of analogue note taking in a digital age, they feel just right for use at home or on the move.
Colors and limited editions
As well as a few stock notebooks, Field Notes provides a 'Colors' subscription service where they release four different designs throughout a year. These designs are unknown until they are released, which can be really fun and exciting. Due to the physical size of the notebook, I'm regularly burning through them and changing the edition I'm using. I really like this pace as it keeps things interesting. Differences in paper, card, and printing technique means there is plenty of variety in more than just the colour of the card stock used.
They also do a number of collaborations which means there's a lot of additional designs out there, in fact there is a very strong community of 'Field Nuts' who are interested in collecting and using these different designs. I have no plans on trying to get them all or to keep them in pristine condition, but it is delightful to have so many options around the same basic notebooks style.
The best of American design
I liked the look of Aaron Draplin's designs before I even knew who he was. With editions ranging from the classic Americana of America the Beautiful to the eye-popping colours of Unexposed, the work Draplin and the whole of the Field Notes team has done for these notebooks is absolutely outstanding, they're always on the cutting edge of American design and trying new things.
The simplicity of purpose and design philosophy also expands to some of the accessories you can get – from leather cases to archive boxes, the use of the Futura typeface, and even the tone of language used in the back of the book.
The Field Notes style is bold and distinct, and something I really enjoy.
They look great used
Finally, one of my favourite things about the Field Notes brand notebooks is how good they look after they've been used. Using analogue tools for note taking is very different to digital notes. Microsoft OneNote is always going to be pixel perfect, but my Field Notes are going to get bent, scraped, rubbed and damaged through use.
They're mine and it just adds to the experience.
I go through Field Notes faster than any other notebook I have, so really using them seems perfectly natural. I'm much more careful with my yearly planner because I have to keep it for 12 months. It's nice to have something I feel comfortable just grabbing and folding over to scribble on.