I have used Windows 7 since the early betas, as is always the case with new Windows releases – I was very interested in what new features were coming. Over the years I've come to rely on these features quite heavily, and like millions of other people I'm currently use it as my primary operating system.
My use of Windows 7 has changed quite a lot over the years – from simply changing themes to using totally different applications. But as Windows 7 is coming to the end of its life (for me anyway) I'm interested to see how my computer usage will change and evolve when Windows 8 takes over as my primary operating system.
So I thought I'd take a moment to reflect on how I'm using Windows on my MacBook today…
I like to keep things simple, a trend that will no doubt continue to Windows 8. As part of this I usually keep the number of applications I pin to the taskbar to absolute minimum. On my home computer this is PowerShell, Outlook and OneNote.
In the notification area I tend to have only power, networking, and volume icons, as well as the awesome Process Explorer. This is pretty much all I want to see down there, and everything else gets hidden away. (Remember when we couldn't hide stuff down there? Ugh!)
Because this is a laptop, I tend to run a lot of my programs either maximised or side-by-side using Aero Snap. This is by far one of my favourite features in Windows 7, and I use it all the time. Just grab the title bar of any window and drag it to the top, left or right of the screen to snap the window into place.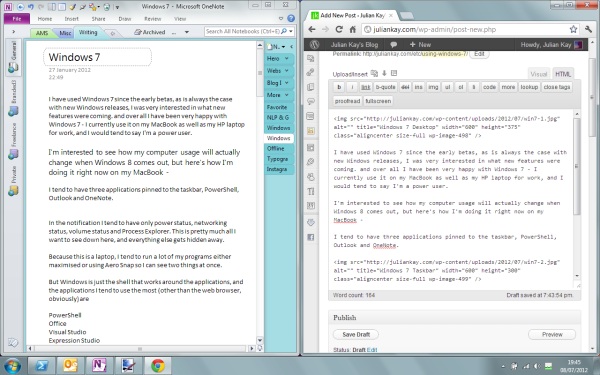 Windows itself is just the shell that works around the applications, and right now the applications I tend to use the most (other than the web browser) are:
PowerShell
Office
Visual Studio
Expression Studio
WebMatrix
Windows Live Essentials
Zune
WorldWide Telescope
All of these applications are made by the same company as the operating system they are running on, so you'd think that they'd all behave exactly the same. This is not the case – each one tends to have its own UX and personality. Something that's probably going to change in Windows 8 thanks to the advent of the Metro design language.
There are plenty of other smaller applications that I also use, including (but not limited to):
Paint.NET
EOS Utility
FileZilla
Flux
KatMouse
Oh and as for the browser? My current choice is actually Google Chrome. Mostly because of the spell checking functionality. I've used Internet Explorer 10 pretty extensively on the preview versions of Windows 8 and I quite like it, so the chances are I'll probably move back to IE when it comes out at the end of the year.
Finally I also spend a large amount of time in PowerShell console windows. I have a lot of applications and scripts that I use in this environment, and I'm really hoping we get some kind of full screen Metro treatment to PowerShell – until then I'm probably going to have to use the Desktop to run these kinds of apps.
Windows 8 will definitely let me work in exactly the same way I do today – you can get access to all of the desktop and features of Windows 7 (with more stuff) so there's no doubt about that. But will things change?
Eventually Metro-style applications will take over from the desktop applications we are using today. It just might take a while.