As an amateur astronomer I have a number of handy tools or utilities that I like to keep with me when I'm out looking at the stars. While the things I want to have to hand at any given time changes depending on what I'm doing, there are always some essentials I'll want to have.
For example, if I'm taking photos I'll want my Canon 7D and my tripod. If I'm going away to Star Camp, I'll want to take my binoculars as well as my computer for taking time lapse video.
On almost every occasion, there is a requirement for a torch – preferably a red one, to avoid damaging night vision. Because this is the most important tool, this serves as the center of my everyday astronomy kit.
Red Torch
After spending a lot of time researching torches, I discovered the Olight M20 Crimson while I was at an astronomy show. It's actually very bright and has multiple settings from 3.5 lumens up to 100 lumens. This could well be too bright if you are using it to illuminate a star chart or camera equipment, but it is fantastic for lighting up where you are going as you walk around an observatory or at a dark location.
Ultra bright red Cree LED
Three brightness settings with memory
Tail switch with momentary on
Anodised black steel construction
Various included accessories
Handy carry case
The only thing I don't really care for is the strobe feature. While I can imagine it being useful for an emergency, it's just not something I would use for astronomy and it can be activated by mistake. But I'm willing to put up with this superfluous feature for the fact that this torch is so high quality when compared to other (incredibly poor) astronomy torches on the market.
Multi-Tool
I know many people carry either blades or multi-tools with them all the time. The majority of the time I like to keep things simple and I do not need to carry one all day.
However I have found that on the occasions where I am either at the observatory or out with other astronomers – having some kind of tool has been extremely beneficial. I decided to get the Leatherman Squirt PS4, which is an extremely small multi-tool, but has some incredibly useful features.
Spring action pliers
Great scissors
Flat and '2D' Philips screwdrivers
Very impressive file for the size
Small blade
When I first looked at multi-tools, I had considered choosing something from the Leather full-size tools – ranging from the expensive Surge to the cheaper Sidekick. I eventually decided that it was a much better option to go for something that is both high quality, and legal to carry at all times in the UK.
Green Laser
Finally, the last of my every day astronomy tools is the green laser. This particular one is a is a relatively cheap 'no name' device which I purchased from eBay. Having a green laser is extremely handy for pointing to things up in the sky, from stars to satellites. And while you can certainly get much more powerful lasers, I only wanted something that would be good enough for astronomy rather than something extremely powerful and potentially dangerous.
Bright green laser shows up well
Very inexpensive
Single AAA battery
One of my favourite things about this particular laser is the fact it uses a single AAA battery. I've seen other lasers that range from small watch batteries up to multiple AAAs and beyond. In my opinion this design gives just the right amount of power verses portability, and I would recommend this device to anyone who is looking for an astronomy laser.
It's worth noting that I also use it with a Duracell rechargeable, so it's easy to replace when it eventually does go flat.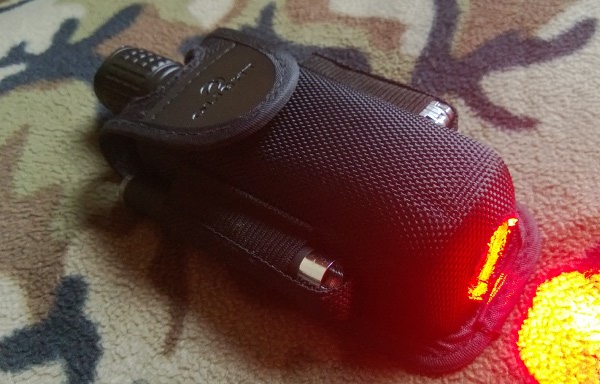 Final Thoughts
I feel like I've actually ended up with an extremely well rounded every day carry kit for doing astronomy. In fact I was so impressed by the case that came with the M20 Crimson torch that I used it as the base for my whole kit. It's easy to carry in my pocket or wear on my belt – and I can even use the torch without removing it from the case as shown above.
While I do not carry this stuff with me all the time, it's always the first thing I pick up when I go out to do astronomy, and I'm sure this equipment will keep me going for years to come.